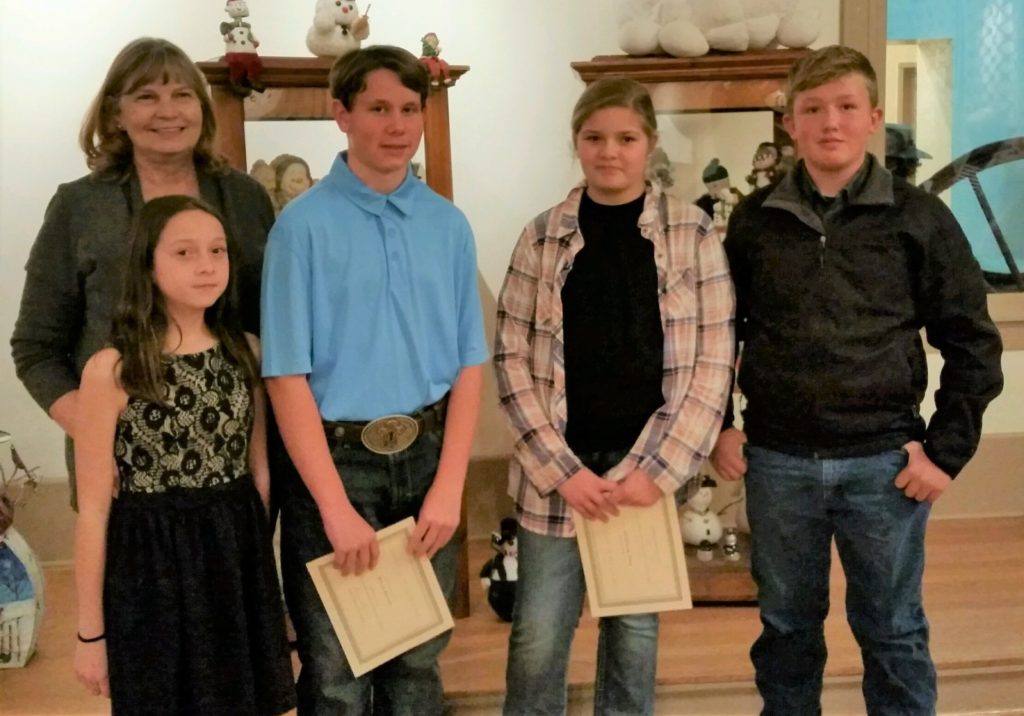 HISTORICAL SOCIETY ESSAY CONTEST
By Kathleen Tomlin
December 9, 2019
Bent County Historical Society is proud to announce the winners of the 54th annual essay contest. Las Animas 7th grade winners were: Cody Netherton, first place, $25.00, for his story about his grandfather Dennis (Corky) Netherton; Emma Netherton, 2nd place, $20.00, for her story about her great grandma Marjorie Auffrey; Kollin Reyher, third place, $15.00, for his story about his grandpa Kent Reyher; and Mya Marfil, honorable mention, $10.00, for her story about her grandma Linda Morton Morlan. Fifth, sixth, and seventh place entries also read their essays and they were Savannah Servaes who wrote about the life of her grandmother Lynn Stwalley Lewis; Esperanza Marlow, who wrote about her grandma Barbara Marie Reed; and Embrea Gallegos who wrote about her grandmother Evelyn Gallegos. The essay contest was entitled, "Giving Thanks to our Elders' History." Kathleen Tomlin, Director of the Heritage Center and Museum welcomed 55 people to the event. Jean Wagner was presented with a Certificate of Appreciation for her dedication to this essay contest and encouraging students to participate. She had over 40 entries, so these winners had a lot of competition. Diane Baublits, Heritage Librarian, spoke of the importance of recording our histories and described the Heritage Library and told a personal story about her dad, Erva Thaxton, and the school census. Pat Bertram, published author and mystery writer, spoke of capturing stories and how we write stories in everyday life with Facebook, etc. Pat is a new resident of Las Animas and wrote the murder mystery for, "Night at the Museum." All essays are on file in the Heritage Library and may be accessed for research purposes. Contact the John W. Rawlings Heritage Center and Museum if you have any questions at 456-6066.
CHRISTMAS COMING TO THE MUSEUM
By Kathleen Tomlin
The Sixth Annual, "Christmas at the Museum" and Wendy's chili lunch will be held on Saturday, December 14th from 11:30 to 4:00 pm. We will be featuring Shirley Quarles' snowman collection throughout the building and park. Adults and kids can enjoy a craft corner making homemade Christmas decorations, chains and craft – all supplies included by the Bent County Art Guild, who will also have a photo booth available. Entertainment will be provided by the Home School Choir singing Christmas carols and volunteers storytelling. We will have a quilt drawing, door prizes, and a silent auction. Come and get in the Christmas spirit and have a great time. Call the Museum at 456-6066 if you have any questions.
Bent County Historical Society
P.O. Box 68 LAS ANIMAS, COLORADO 8105
4719-456-6066PRESS RELEASE – September 16, 2019
BOGGSVILLE'S FUTURE IS PROMISING
By Kathleen Tomlin
As volunteers prepare for annual Boggsville Days activities coming up October 11-12, the Bent County Historical Society has some spectacular news! We have been awarded a $155,917 grant by the Colorado State Historic Fund. The grant will be used to sustain and repair the Boggs and Prowers Houses at Boggsville. Boggsville, a multicultural National Register site along the Santa Fe Trail, is arguably one of Colorado's most important historic resources as the state's earliest extant agriculture and trade centers from 1862 to 1873. In order for the grant to goforward, we must provide matching funds by October 1st. The board is working hard to raise the matching funds. We are asking anyone interested to consider helping us reach that goal by September 27th. We are also thrilled to announce that we have secured matching funds so far from the Gates Family Foundation, Peter Grant/National Trust, Bent County Preservation Society, Bent County Commissioners, First National Bank of Las Animas, Dale Leighty, Dairy Queen, and the Bent County Art Guild. This leaves us with $5,984 still needed to make the grant go forward. We continue to be committed to search for additional means of support, and we are certainly grateful for any donations to help us meet our goal.We remain appreciative of the support that Bent County and its citizens always provide to the John W. Rawlings Heritage Center & Museum and the Boggsville Historical Site. Boggsville illustrates a unique history and we want to be able to continue to sustain it, as it is a valuable asset to the city, county and state. We are hopeful that it will become a Community Museum like the one at Fort Garland andhave been working toward that end with History Colorado. The future of Boggsville is dependent on doing the work necessary now to keep the buildings from deteriorating further, and this grant will help us do that. Come on out and enjoy the Boggsville Day activities! If you have any questions, contact Larry Bourne at 719-281-6877.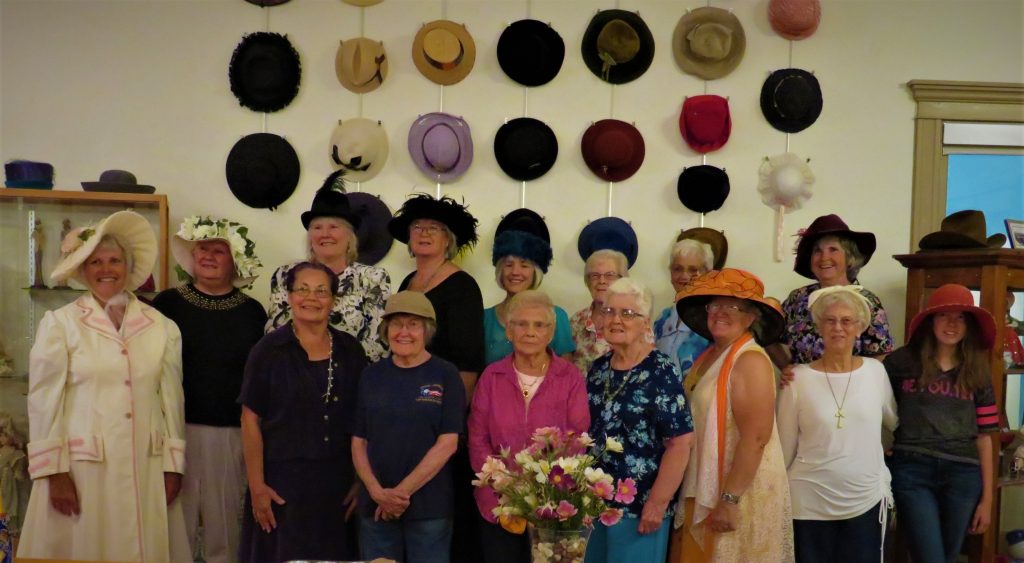 By Kathleen Tomlin
August 25, 2019
HATS OFF RECEPTION: Twenty people showed up in the Grand Hall at the Museum to have fun and close out the Summer Hat/Photography Exhibit, which will come down after Labor Day Weekend. Lots of pretty ladies and three gentlemen arrived for the event. Joan Kinsley was presented with an appreciation certificate for all her hard work in organizing and promoting the exhibit. Joan spoke of her mother's hat history and discussed highlights from the exhibit. Tom Pointon received an appreciation certificate for providing us with over 800 pictures of Bent County citizens from his camera's eyes throughout the years. JoAnne Miller was presented with an appreciation certificate for all she does for the community, and the Bent County Art Guild presented her with a two-year membership. JoAnne made the quilt we are giving away. Linda Adkins, visitor from La Junta, brought a few of her grandmother's hats and told their story and how her grandmother would wear them. First Responder Certificates were presented to the Fire, Police and Ambulance Services – hats off to all who provide these needed services – they are appreciated. For the men's awards, Larry Bourne won the baldest contest and Kenneth Dodson and Jim Adkins tied for the best hair contest. Donna Dodson won women's best costume with a beautiful ensemble that she had created. After refreshments and visiting, JoAnne's quilt named, "Flying High," was given away to a winner from Wyoming. Everyone had a great time. You have one more week to see the exhibit. Thanks to all who came and participated and supported this event.
COMING EVENTS: September 15th – gourd painting at Museum – 2-4 pm; October 12th – Boggsville Days; October 26th – Night at the Museum and Murder Mystery; November 26th – Annual Essay Contest Awards for 7th graders; December 14th – Christmas at the Museum and chili lunch.
CURRENT HOURS: Museum and the Old Trail Gallery are open on Tuesdays from 9am to 4pm; Wednesday – Friday 1-4 pm, and Saturday noon to 4pm. Historical Society members are FREE! Visit the Old Trail Gallery for your shopping needs – we are having a summer sale 20% OFF on clothing – stop by and check it out – no admission charge to shop! Please call to arrange tours of the Museum after hours at 456-6066 or 469-2721. Boggsville is open through Boggsville Days October 11-13th. Boggsville hours are from 11am to 3pm Tuesday through Saturday. Contact 456-1358 or 281-6877 for any special arrangements.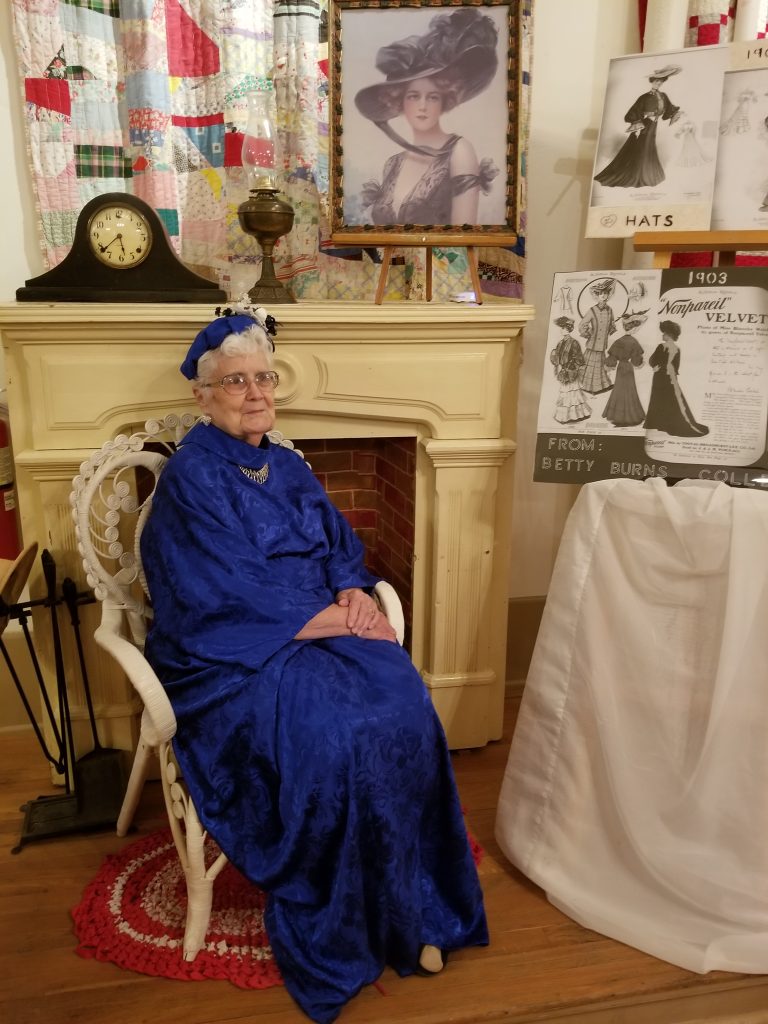 HAT'S OFF RECEPTION SUNDAY
By Kathleen Tomlin
August 19, 2019
HATS OFF RECEPTION: This Sunday, August 25th from 2pm to 4pm, we will close out the summer hat and photography exhibit when we host the "Hats Off Reception." We will feature men's professional hats such as Policeman, Fireman, State Patrolman, etc. There will be a "Best Bald Man Contest" and "Best Naked Head" contest for men only. This will be a fun-filled afternoon to enjoy the summer hat and photo exhibit, take more pictures in the hat booth, enjoy refreshments and friendship, and give away the beautiful homemade quilt created and made by JoAnne Miller. The exhibit officially closes August 31st, so come andenjoy the exhibit before it closes, and buy some tickets for the quilt! Cost is $5.00 donation at door – kids are FREE.COMING EVENTS: September 15th – gourd painting at Museum – 2-4 pm; October 12th – Boggsville Days; October 26th – Night at the Museum and Murder Mystery; November 26th – Annual Essay Contest Awards for 7th graders; December 14th – Christmas at the Museum and chili lunch. CURRENT HOURS: Museum and the Old Trail Gallery are open on Tuesdays from 9am to 4pm; Wednesday – Friday 1-4 pm, and Saturday noon to 4pm. Historical Society members are FREE! Visit the Old Trail Gallery for your shopping needs – we are having a summer sale 20% OFF on clothing – stop by and check it out – no admission charge to shop! Please call to arrange tours of the Museum after hours at 456-6066 or 469-2721. Boggsville is open through Boggsville Days October 11-13th. Boggsville's hours are from 11am to 3pm Tuesday through Saturday. Contact 456-1358 or 281-6877 for any special arrangements