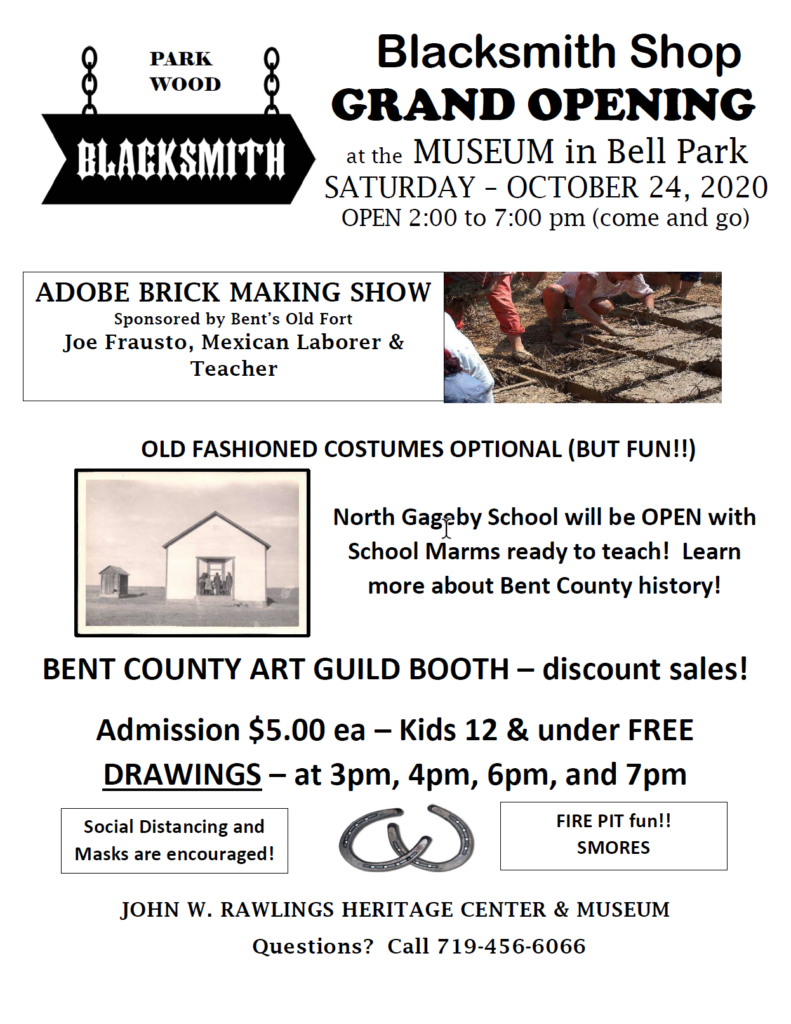 Blacksmith Shop Grand Opening
By Kathleen Tomlin
October 12, 2020
The John W. Rawlings Heritage Center & Museum is proud to announce their first event in several months. On October 24th from 2 to 7pm, Bell Park will be popping with activity. Park Wood will demonstrate the newly finished Blacksmith Shop; Bent's Old Fort is sponsoring Joe Frausto, Mexican Worker and Teacher, for an Adobe Show; the Art Guild is having a sale booth; North Gageby School will be open with school marms teaching; and a firepit will be brewing for smores and more. Drawings will be held at the top of each hour beginning at 3pm through 7pm. Admission is $5.00 for adults and kids 12 and under are FREE. Old fashioned costumes are optional, but fun. Call the Museum at 456-6066 if you have any questions.
Museum Honors WWII Veterans
By Kathleen Tomlin
September 2, 2020 will mark the 75th Commemoration of the End of World War II; a war that took the lives of over 405,000 U.S. military personnel. The "Mighty Mo," which now rests on the hallowed waters of Pearl Harbor, is a reminder of those who gave the ultimate sacrifice in restoring peace to the world. Even though the Museum is not yet open to the public because of the pandemic, volunteers have been busy doing various things to prepare for the opening. In honor of World War II (1939 – 1945) they decided to honor the men and women of World War II with a window display for the summer. We hope you enjoy it. We are being told that we can probably open very soon. We have missed our patrons and cannot wait to see you again. Call 456-6066 with any questions.