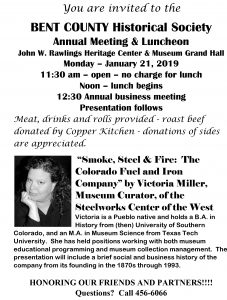 NEWS FROM THE BENT COUNTY HISTORICAL SOCIETY
By Kathleen Tomlin
January 6, 2019
HAPPY NEW YEAR: We would like to take this time to thank all who attended and volunteered at our Christmas event and other events throughout the year – this includes Historical Society, Boggsville, Museum and Art Guild activities!! We would also like to thank you for paying your dues and donating to preserve Bent County History. We have had a fantastic year and are making plans for an even better 2019!
ANNUAL MEETING: Our annual meeting will be held on January 21st with a luncheon, annual meeting to elect new officers, and a presentation. This is when we take time to honor our friends, volunteers and partners. Victoria Miller, Museum Curator of the Steelworks Center of the West in Pueblo, will present, "Smoke, Steel & Fire: The Colorado Fuel and Iron Company." The presentation will include a brief social and business history of the company from its founding in the 1870s through 1993.
FUTURE EVENTS: February 10th – Mardi Gras Dinner sponsored by the Bent County Art Guild from 5:30 pm to ? More details to be announced later.
CURRENT HOURS: Museum and the Old Trail Gallery are open on Tuesdays from 9am to 4pm; Wednesday – Friday 1-4pm, and Saturday noon to 4pm. Historical Society members are FREE! Visit the Old Trail Gallery for your shopping needs – specialty gifts and no admission charge. Please call to arrange tours at 456-6066 or 469-2721. Boggsville is now CLOSED FOR THE SEASON. Contact 456-1358 or 281-6877 for any special arrangements. RESEARCH LIBRARY: Open on Tuesdays at 9am – please make an appointment for specific research requests by calling the Museum at 456-6066.
BENT COUNTY HISTORICAL SOCIETY TIDBITS: Like us at Bent County Historical Society and Boggsville Landmark on Facebook!! If you aren't on Facebook, try our webpage, bentcountyheritage.org; and for the technically challenged, just give us a call at 719.456.6066. Enjoy the virtual tours of the Museum and Boggsville right from your own home. Thanks to all of you for your continued support – we couldn't do it without fantastic people like you! Kathleen Tomlin
NEWS FROM THE BENT COUNTY HISTORICAL SOCIETY
By Kathleen Tomlin
December 17, 2018
CHRISTMAS AT THE MUSEUM THANKS: Thanks to all who attended and volunteered at our Christmas event. We would also like to take this time to thank all those that attended and volunteered for all our events this year for the Historical Society at Boggsville and the Museum. We have had a fantastic year and are making plans for an even better 2019!
FUTURE EVENTS: February 10th – Mardi Gras Dinner sponsored by the Bent County Art Guild; February/March Historical Society Annual Meeting – date to be announced.
CURRENT HOURS: Museum and the Old Trail Gallery are open on Tuesdays from 9am to 4pm; Wednesday from 1-4pm, Thursdays noon to 4pm, and Friday-Saturday 1-4pm. Historical Society members are FREE! Visit the Old Trail Gallery for your shopping needs – great gifts for Christmas giving and no admission charge. Please call to arrange tours at 456-6066 or 469-2721. Boggsville is now CLOSED FOR THE SEASON. Contact 456-1358 or 281-6877 for any special arrangements. RESEARCH LIBRARY: Open on Tuesdays at 9am – please make an appointment for specific research requests – by calling the Museum at 456-6066.
BENT COUNTY HISTORICAL SOCIETY TIDBITS: Like us at Bent County Historical Society and Boggsville Landmark on Facebook!! If you aren't on Facebook, try our webpage, bentcountyheritage.org; and for the technically challenged, just give us a call at 719.456.6066. Enjoy the virtual tours of the Museum and Boggsville right from your own home. Thanks to all of you for your continued support – we couldn't do it without great people like you! Kathleen Tomlin
NEWS FROM THE BENT COUNTY HISTORICAL SOCIETY
By Kathleen Tomlin
November 26, 2018
ESSAY CONTEST: Winners are announced in a separate article! Thanks to all the students who participated and to all those that attended.
CHRISTMAS AT THE MUSEUM: December 8th from 11:30 to 4pm – Join us for our annual celebration! Cost is $6.00 for adults, kids $3.00, and kids under 6 are free. Family fun with a delicious chili lunch and all the trimmings; crafts for kids, Christmas Storytime; accordion, piano, and music performances; Santa photo booth; ornery elves; craft sales, and LOTS of chances at several drawings! Go on a new adventure with Drone Bros. virtual reality tent experience – play games or visit a destination of your choice!
FUTURE EVENTS: December 18th – noon – Ugly Sweater Contest and Luncheon for volunteers
CURRENT HOURS: Museum and the Old Trail Gallery are open on Tuesdays from 9am to 4pm and Wednesday through Saturdays from noon to 4pm. Visit the Old Trail Gallery FREE for your shopping needs – great gifts for Christmas giving. Please call to arrange tours at 456-6066 or 469-2721. Boggsville is now CLOSED FOR THE SEASON. Contact 456-1358 or 281-6877 for any special arrangements. RESEARCH LIBRARY: Open on Tuesdays at 9am – please make an appointment for specific research requests – by calling the Museum at 456-6066.
BENT COUNTY HISTORICAL SOCIETY TIDBITS: Like us at Bent County Historical Society and Boggsville Landmark on Facebook!! If you aren't on Facebook, try our webpage, bentcountyheritage.org; and for the technically challenged, just give us a call at 719.456.6066. Enjoy the virtual tours of the Museum and Boggsville right from your own home. Thanks to all of you for your continued support – we have many blessings to be thankful for! Kathleen Tomlin
ESSAY CONTEST WINNERS
By Kathleen Tomlin
November 25, 2018
Bent County Historical Society is proud to announce the winners of their annual Essay Contest for 7th graders. The contest entitled, "Giving Thanks to our Elders' History" and the awards ceremony was held on November 20th in the Grand Hall at the Museum with 42 people attending. Appreciation was expressed to the teachers that make the contest possible – Melissa Steinbrunn, McClave and Jean Wagner, Las Animas – and their efforts to encourage students to write. Diane Baublits, Volunteer Librarian for the Heritage Library, told a moving story about a lady she had completed research for from Paradise, California. The lady lost her home and 20 years of genealogy research in the fire, but luckily, she shared her research with us. Diane encouraged families to write stories and share them with their families. Eleven students from McClave and Las Animas Middle School competed. The winners were: First – Kenna McElroy, McClave, $25.00, "Hasty During the Construction of John Martin Dam"; Second – Alicia Deatherage, Las Animas, $20.00, "Papa's Life Through Eyes of Granny," featuring Mike and Linda Smith; Third – Antonio Marfil, Las Animas, $15.00, "1958 Las Animas Through Dad's Eyes," featuring Frank Marfil, Jr.; Fourth – Makayla Hall, Las Animas, $10.00, "The Life of Arlene Muriel (Rippetoe) West, Grandma"; Fifth – Chanel LaBarge, Las Animas, $10.00, "Deborah Sue Bewley 'Grandma ' ", featuring Deborah Abdulla. All the winners did a great job of reading their essays, and refreshments followed. Thanks to all the students and teachers for participating in the contest; all essays are available in our Heritage Library.