The Rawlings Heritage Center was proud to host the 8th annual FREE Ice Cream Social for kids on July 12th in Bell Park on a hot summer morning.  Around 30 kids and adults attended.  Homemade ice cream, donated by Linda Bourne and Kathleen Tomlin, was delicious and kids and their parents/grandparents enjoyed ice cream with all the toppings.  The kids had fun ringing the school bells, visiting the one-room North Gageby Schoolhouse, and playing old fashioned games.  Games include jacks, marbles, bubbles, horseshoe toss, etc.  This event is sponsored by the Rawlings Heritage Center & Museum; the Bent County/Las Animas Public Library (summer reading program kids); and Bent County Art Guild partnership.  Many thanks to all of those that helped! 
------------------------------------------------------------------------------------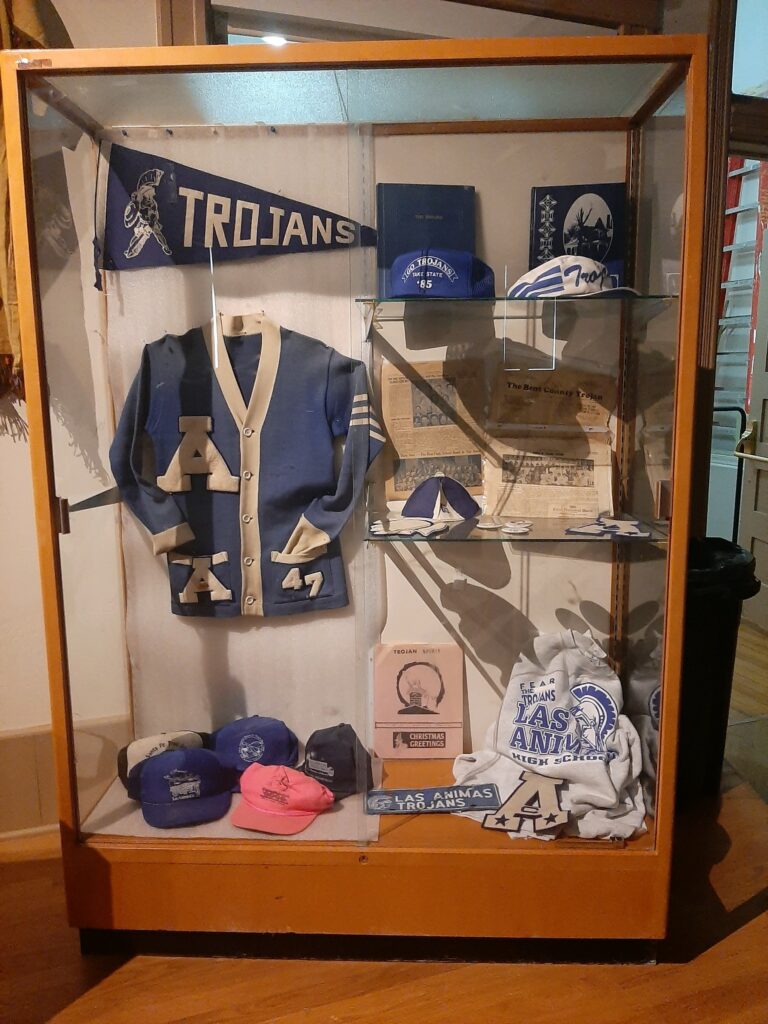 JOHN RAWLINGS MUSEUM ANNOUNCES SUMMER EXHIBIT
By Kathleen Tomlin
May 30, 2023
The Rawlings Heritage Center is proud to announce our summer exhibit, which opened this past Saturday for the All-Class Coffee. The "Roots of our Community" showcases the groups that bound us together in the past, and still bring us together today. We are exhibiting many archival items of special interest such as school, church, military, and community social groups. The official opening will kick off with a Tea Party on Sunday, June 11th at 2:00 pm co-hosted by the Bent County Art Guild. Tea parties are always fun at the Museum with old fashioned hats and dresses, door prizes, and refreshments. Bent County Art Guild will offer some classes this summer including painting, music rhythm and clay works. A special thanks to our staff and volunteers, Phyllis Lutz, Donna Dodson, Alice Deatherage and Diane Baublits, who worked very hard to creatively to pull this exhibit together! It's going to be a GREAT summer! Please call 719-456-6066 if you have any questions
---
SANTA FE TRAIL DAY ART SHOW
By Kathleen Tomlin
April 5, 2023
 For 18 years, the Bent County Art Guild has been hosting a "Santa Fe Trail Day" Art Show.  We are excited to announce that this year the Art Guild has changed everything up, pulled out all the stops, and decided that entries are FREE – YES THE ART SHOW IS FREE TO ALL ARTISTS!  The show is open to all artists who create their own original artwork in oils and acrylics; watercolor; graphics, photography; sculpture; leatherwork; mixed media; and the Santa Fe Trail Day Theme (any media).  The Santa Fe Trail Day Theme is, "89 years of connecting people in commerce, conflict and culture."  Since there are no fees for entries, only three pieces per artist is allowed.  We will be accepting entries at the Rawlings Museum in Las Animas on April 26th and 27th from 1pm to 4pm.  A panel of three judges will award first and second place (wagon plaques made by Guild members) in all categories.  The "People's Choice" award will receive a special gift of a horseshoe with turquoise.  If artists wish to sell their work, it will be displayed in the Old Trail Gallery for the month of May.  The Art Guild will receive 20 percent of sales at the Art Show or at the Old Trail Gallery.  A reception for all artists will be held starting at 4pm on Friday, April 28th, in the Grand Hall.  The judges will be present to talk to the artists, and light refreshments will be served, including wine and cheese.  The Museum will be open from 8am to 10am on Santa Fe Trail Day, and then reopen after the parade until 4:00 p.m.  Further instructions are available from any Art Guild member or at the Museum. Joan Kinsley is serving as Art Show Coordinator this year and she can be reached at 719-456-0272 or call the Museum at 719-456-6066.


--------------------------------------------------------------------------------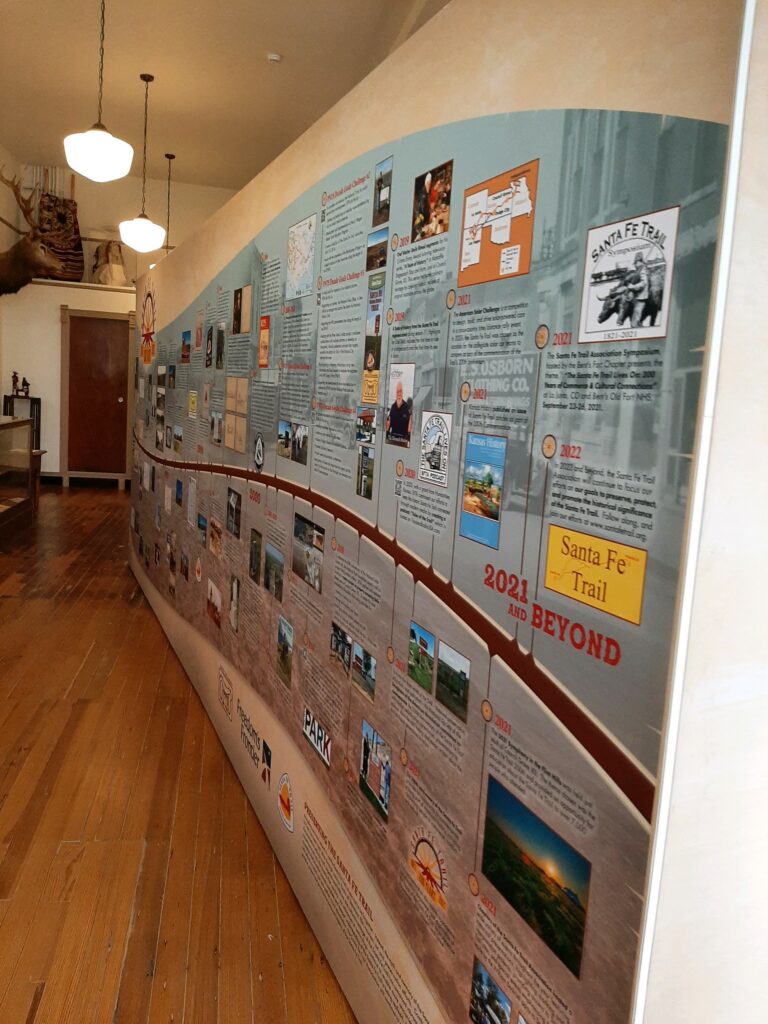 RAWLINGS MUSEUM HOSTS TRAVELING EXHIBIT
Kathleen Tomlin
April 3, 2023
Bent County Historical Society and their partner, Bent's Fort Chapter of the Santa Fe Trail, are proud to announce that the Santa Fe Trail Timeline Traveling Exhibit is currently on display in Bay 2 of the Museum. The display will be available from now through May 31st. This traveling display was developed by the Santa Fe Trail Association for the commemoration of the 200th anniversary of the opening of the Santa Fe Trail which crosses the path Francisco de Coronado followed in 1541. The Timeline is 20 feet long, eight feet high and features more than 150 significant places, people, and events, with illustrations and brief commentary. It begins with the arrival of Spanish colonists in New Mexico in 1598 and highlights specific events throughout the historic time period of usage of the Santa Fe Trail.
It also traces the recognition of the old trail into the 21st century, with a focus given to the inception of the Santa Fe Trail Association in 1986, and the establishment of the Santa Fe National Historic Trail as part of the National Trails System in 1987. The Museum is open Tuesday from 9am to 4pm, and Wednesday through Friday from noon to 4pm. Call if you have any questions at 719-456-6066.
——————————————————————————————————————–
BHS's New President – Jaxon Meardon
The Bent County Historical Society members elected Jaxon Meardon to serve as President of the Board at their annual meeting March 25th. Jaxon joined the board in September 2020. He was born and raised in Baca County, graduated from Walsh High School and Oklahoma Panhandle State University with a B.A. degree. Jaxon has been employed as a Loan Officer at the First National Bank in Las Animas since 2015. Since moving to Las Animas, he has volunteered for many community activities including the Arkansas Valley Hospice Board, Las Animas City Council, and the Las Animas School District Board. Kathleen will serve as Vice-President after serving as President during two different terms. LaVonne Garrison is Recording Secretary and Sandra Milenski serves as Treasurer. Board of Directors also include Anita Pointon, Donna Dodson, Phyllis Lutz, and Linda Bourne. Anita serves as Director of Boggsville Historical Site and Kathleen Tomlin as Director of the John W. Rawlings Center & Museum. Larry Tucker, Las Animas native and one of our BHS guardian angels at the Copper Kitchen in La Junta, was thanked for donation and preparation of the beef brisket, as well as volunteers who brought covered dishes. Jaxon led the blessing and a moment of silence for the members we have lost in the past year. Kathleen thanked all volunteers and partners who assisted us along our historical path. We appreciate all that you do, and we could not survive without you. Volunteers donated 5651 hours last year, which is equivalent to 3.4 employees at 32 hours a week. This is incredible! Chris Headlee was thanked for maintaining our website and he reported 97,892 visits to our website last year. Barbara Shively was thanked for serving as our Marketing Director and providing quarterly newsletters via email. ANNOUNCEMENT – This year is the 150th Sesquicentennial Anniversary of Las Animas. A big thank you to Bob Stwalley for researching and reminding us of this and the audience was asked, "In 1973, the town of Las Animas celebrated the 100-year centennial of the settling of Las Animas. Who was the mayor of Las Animas in 1973?" Kathleen then introduced our guest speaker, Dennis R. Moore, from Colorado Springs. He was assisted by Mel Elliott, both serving on the Buffalo Soldiers Memorial Committee in Colorado Springs. He provided a very fascinating PowerPoint program entitled, "BUFFALO SOLDIERS – A KEY CHAPTER OF AMERICAN HISTORY." If anyone would want a copy of his program emailed to you, just let us know at bentctyheritage@gmail.com or call us at 719-456-6066.